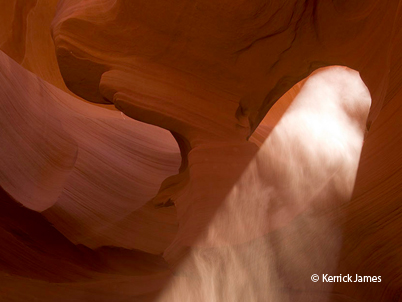 Light, Shadow and Dynamic Range
Shooting in scenes that combine both high contrast and zones of flat light really test the quality of a sensor, and any slot canyon presents this rigorous test. Light flows through this arch inside Lower Antelope Canyon for less than fifteen minutes, so arrive early to save your position in this narrow location. Set up your camera on a tripod, fine tune your composition and wait for the sun to shine through.

The Navajo guides are trained to repeatedly toss handfuls of sand into the air to give visual weight to the light. Many images will have incomplete light beams or extreme highlights, but by shooting multiple captures and reviewing the histograms you'll know that you're in the zone and have a range of good images to choose from. Recording the RAW file and careful processing are critical as you want to avoid lowering the contrast in the mid-range shadows.

Last note, when shooting using the thrown sand technique, it's real peace of mind to know that your Pentax DSLR body is weather sealed. Always use a UV filter to protect the front surface of the lens, as when you venture into any slot canyon.